Are you clear on why you have a presence online?

Ultimately, profitable passion always match well, however you may define profitable. 

When we create an online business wisely, we use our talent, pastime, passion, experiences, what drives us, to level up effectively and efficientlty.


Personally, I am deep into an outstanding business education while effectively doing business through and with dances spirit niche theme, this vital key we are sharing about fondly and which benefits I am passionately dedicated to spread widely.

Along the way, I have learned to avoid the following 5 real bummers :
 be too much in a hurry


 spread time thin


 let emotions rule decisions


 stitch bits of information gathered here and there 
(Forget about them ever turning wholy efficient, hard work or not, however relevant and efficient they are or may seem.)


 trust urban myths

Here is my story in 5 points...



1. Not so fast...


It all began with a pretty cool start.

I started a blog in August 2011 with my passion for humanities and conscious movement through dances around the world as an ever bright candle in all circumstances.

I was led to start an online business from many directions. I  particularly got a strong recommendation from the seminar Millionaire Mind Intensive. That seminar had on me the impact of a game changer switch. It made me aware of the sticking influences of past imprints, making us merry-go-rounders even when we know better. 

I thus started to get rid of dissonances in order to harness my way on my own terms with the means to live on my own terms. That is how starting a small business online became inevitable.  I also knew I could not do it all by myself.


I tried a few Get Rich Quickies on how to create an online business.


I got inspired by Jennifer Laycock's ebook Zero Dollars, a Little Talent and Thirty Days. The ebook is a concise version of a 30 days blogging experiment part-time with Blogger Blogspot, to successfully raise funds for the Lactivist Project, a Mother's Milk Bank, without spending a dime.

Ultimately, after thoroughly analyzing SiteSell's Solo Built It! (SBI!), I was set. I checked:
√  genuine
√  reliable
√ relevant proofs of successful results
√ all-in-one with everything required
√ affordable to all budgets


I was confident about sustained income outcome for a newbie like me in the world of website business and internet marketing for solopreneurs.

I started with a blogging journey that was exciting with promising results from site inbound links to social media engagements, in the first six months, untill the red carpet was suddenly pulled under me.

I tried to bypass SBI's tortoise pace. Things went wrong...

2. Time spread thin... 


Don't spread your time thin by failing to plan and organize well prior to build it
I had a vision and still does, plenty of creativity and motivation to do wonders. Should the road be cleared of all messy obstacles, there was no stopping me. I knew first hand about the hard knocks of obstacles and was not afraid to dive in without ever looking back.

I raised alone two boys, now 21 and 26 years old. I spent a lifetime struggling even though decently employed in administration and accounting. At some point, I switched gear and spent a chaotic 4 years as an independent worker in financial planning. In 2011, I was all fed up but very much hungry. My ultimate life quest was still waiting on the sideline to be pursue. Starting a small business online was the ultimate thing to level up my game.

SBI! was my absolute first choice of mentorship and instrumental in choosing strong keywords for a solid foundation to leverage with. It provided, and still does, sound advices within a comprehensive action guide to create an online business wisely.

SBI! reminds me of an alternative education philosophy such as Montessori or Waldorf and COOP programs' aim, which is to provide the higher value of learning by doing. I'm confident that it compares favorably to any business education degree.

So, everything I needed to focus on purpose with poise in delivering quality content while ensuring technical background execution the right way to create an online business wisely with steady success was, at my fingertips. I set myself to work patiently on this core niche website business, Kadans World Dances Spirit Danses, following the Action Guide step by step instructions.

To create an online business wisely, SBI! also requires to work with consistency and always emphasizes on brain, attitude and motivation at the unwavering pace of the tortoise.

I believe my motivation was higher than 900% and not counting. My brain fizzled from all the buzz I checked on the world wide web. As for my attitude, I was much in a hurry to get results fast; I mean fast like yesterday. I was inclined towards quick solutions, quick visuals like infographics and short and easy videos. Much like following urban myths...

In trying to bypass the tortoise pace, I also started building up at the same time the blog artpreneure.blogspot.com then. Little did I know about how to create an online business wisely. I was spreading thin my precious time, an unrenewable energy, as I failed to plan and organize wisely prior to build in function of a website business growth.

I would be adding, to what I was learning from SBI!, the quickies that caught my attention from everywhere else. I ended up spending way much more time working on artpreneure blogspot.com than on this website business. Time was spent more often than not, going over the same things again and again when better advices and quickies came along and I would find necessary to correct not so well done work.

The most frustrating not so wise decision, with quite a negative impact on the use of my time, was the free web hosting mode settled for. Free web hosting means free space and no claiming rights of that space whatsoever. Consequently, free web hosting means complete dependence and subject to any change from the host without notice and without any right of regard. And, that's exactly what happened + I suspect my blog had been copied (Alexa showed an artpreneure blogspot.in that was the exact replicate of mine and some funny things were done by google in my blogspot admin section).

So, without notice and without any right of regard, my host changed .com for .ca. The links I built were also changed. Those changes practically meant, in terms of positioning on the web, a new start from scratch. The blog's ranking with Alexa reversed drastically. Flushed down went six months of hard steady work, in a heartbeat.



"Emotions are what make us human, make us real. The word emotion stands for energy in motion. Be truthful about your emotions, and use your mind and emotions in your favour"
~ Robert Kiyosaki)

3. Rule by emotions...


I have to say honestly that my online business presence turned to madness at work (madness: doing the same thing and expecting different results)! I let my emotions got the better of me.

Obsessive people, be aware!

I felt doomed. But I was travelling on emergency autopilot. I kept the same blogspot vehicle since I was already familiar with it and too stubborn (or unwilling to change) to give it up. I got going on a sense of urgency. It seemed like fire was flaming 24/7!

There was no time to patiently go back to the drawing table, to start over, plan and organize better. I got into thinking that I could still go on the same path and find a quick way to achieve great results real fast.

I went on spending way more money than I earned. I wished and believed somehow that it will all come back multiply by tens, hundreds or thousands more quickly than I could imagine. Go figure...! Urban myths?

And to add some sizzles in the mix, I also became at the same period of time the solo caregiver to my aging mother, trying to save her from a debilitating health care system caring more about administrative matters than human well-being and quality of life.

I managed to keep adding content consistently to the blog, bought the name artpreneure, and added the two keywords and google adsense promising revenus sections, artpreneure dancequotes and artpreneure dancegifts. Ironically, I got banned shortly after from google adsense over a technical matter. Out went my sole monetization income.

And in came a cause that took my heart by storm. I could not resist! I dive in passionately, unfettered in regards to my circumstances, full of wishful thinking.

I contributed a whole 3 months of marketing in support of a fundraising to the benefit of the Youth Dance Program Dansepyenu in Haiti. I set a dance quotes challenge and used tools from the course Lancements orchestrés by Le Marketeur français, inspired by Jeff Walker's very popular Product Launch Formula as a french version.

It was a good learning experience. It got artpreneure off track for months, though.

Meanwhile, working much more slowly with this website business, I managed through half of SBI's Action Guide 10 days concept and got to put a home page online.

I took care of my mother for 2 years. With the help of Usana Health Sciences cellular nutrition, we gradually reversed the degenerating side effects of prescription drugs. My mother could finally function on her own again. It took a while for me to get to a more harmonious rhythm of breath and mindset.



4. Why stitch when you can build...


Bottom line focused to Solo Build It wisely!
It all feels like a world travel quest back to a treasure I had right inside my pocket all along. Why stitch bits and bits here and there when we can focus to simply create wisely and beautifully...

I had to humbly acknowledge that there's no such thing as fast track sustainable results when it comes to create an online business wisely. So far, SBI! is the only all-in-one-step-by-step online business system of process to deliver thriving proofs of online solo entrepreneurial success, I know.

Although I partially used SBI!'s tortoise wisdom, the good results I got were from doing so. It kept me alive and kicking on the blogosphere.

Consequently, a wise clear cut resolve to intently concentrate and follow SBI! Action Guide entirely focused is a no brainer.

It is fairly discerning to follow the proven process of the best online business system, I know, to truly integrate online business courses into practical planning and relevant organizing to create an online business wisely and successfully build it! Right?

I am practically learning to keep things simple, take one step at a time, step up on progress to score firmly when being as wise as the tortoise, focused and consistent.

I've figured out by now (or remembered) that I'm a slow walker anyway.


I kept aligned all along, because, however lost I may have gotten myself sometimes in the maze of internet marketing experts tools all over on how to create an online business, integrity have always been my #1 priority. SBI! fully supports that integrity!


Along the way I also got to appreciate lately, the unique down to earth approach of Ramit Sethi in, Your Move: The Underdog's Guide to Building Your Business. Combining SBI! and Ramit's teaching works great for my personal learning process and needs.



5. Bottom line when we create an online business wisely...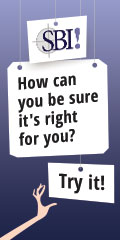 Don't fall for urban myths!


Whatever your background is, you can create an online business wisely with rock solid foundation and provide profitably to a well targeted clientele in a niche of your choice.

You need personal motivation plus internal and external geniune resources to fuel adequately your spin, desires and creativity.

You need to leverage your time and money efficiently with a reliable system.

Thanks to SBI!, my subject, dances spirit, is well researched to build on strongly and to fit successfully in its niche. Objectives, most valuable proposition and benefits for my visitors and followers are crystal clear: balance and harmony through conscious movement.

How can you create an online business wisely?

Well I know Solo Built II! delivers well beyond expectations to newbies like me as well as experienced webmasters from creative backgrounds and all walks of life, sharp actionnable tools to do just so.

You'll avoid all the noises on the web because you'll have everything you need in one place to knowingly, patiently and successfully build your solo website business.

Try it risk free! To create an online business wisely can be fun, simple and profitable! 



Create an online business wisely! Success! Real! Simple!

For updates on my progress, you may come back here or sign in here (you get a book of quote along). Also, the following link leads you to handy help for answers to your questions about Solo Built It! (Solo Build It!).

Please take a moment to tell me about your observations or any particular comment you may have on 5 real bummers to avoid when we create an online business wisely.



''I am a slow walker, but I never walk backwards.''  
~  Abraham Lincoln (Quoted in The Lexington Observer & Reporter)